Bekaert and Toshiba sign Memorandum of Understanding to develop global partnership around MEA for PEM electrolysis
Bekaert
Toshiba Energy Systems and Solutions Corporation
Toshiba Corporation
Driven by the opportunities arising from the energy transition and decarbonization trends, Bekaert and Toshiba Corporation's energy arm, Toshiba Energy Systems & Solutions Corporation (Toshiba ESS), are accelerating their growth strategies in renewable energy markets, particularly in green hydrogen production utilizing Hydrogen Production Technology with Reduced Iridium developed by Toshiba.
Recently Yves Kerstens, CEO of Bekaert, welcomed Taro Shimada, President and CEO of Toshiba to the Bekaert Headquarters in Zwevegem, Belgium, and they discussed cooperation opportunities in green hydrogen electrolysis technologies. Bekaert and Toshiba ESS signed a Memorandum of Understanding to formalize their commitment in developing a partnership by the end of this year.
Bekaert has a leading market position in Porous Transport Layers (PTL), a key component in the MEA (Membrane Electrode Assembly) of water electrolyzers, and has established a global commercial and manufacturing network.
Toshiba ESS is developing MEAs for high-performance, large-capacity PEM water electrolyzers. Toshiba ESS is proud of its iridium-saving technology, which reduces the amount of iridium, an expensive and rare precious metal, essential for MEA devices to one-tenth, while achieving high water electrolysis performance and durability.
Bekaert and Toshiba ESS have agreed to study the possibility of a global partnership to jointly develop the production and sales of MEAs by leveraging their technological, manufacturing and commercial network strengths.
Yves Kerstens, CEO of Bekaert commented: "Bekaert has been successfully bringing new technologies to the green hydrogen market in the last few years and has a clear growth strategy for the coming years to meet global demand. We are delighted to be partnering with Toshiba, a prestigious name in many industries, including in renewable energy, and together accelerate the use of green hydrogen to decarbonize industries globally."
Taro Shimada, President and CEO of Toshiba commented: "Toshiba has been a leader in hydrogen production technologies for many years. The rapidly-growing, global need for green hydrogen is evident and we are therefore excited to be partnering with Bekaert, a technology leader in PTL, to accelerate our talks towards joint development and sales of electrolyzer components."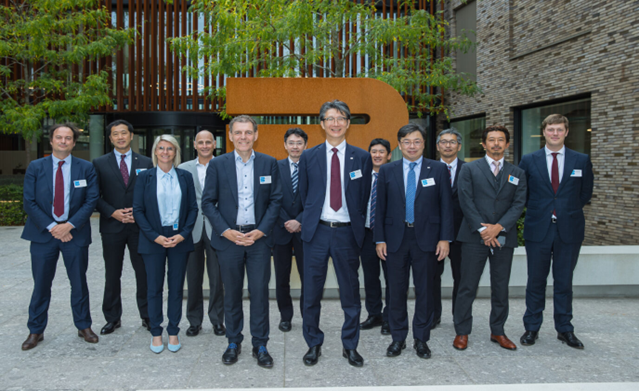 Yves Kerstens, CEO of Bekaert and Taro Shimada, President and CEO of Toshiba at Bekaert's Headquarters
Attachment