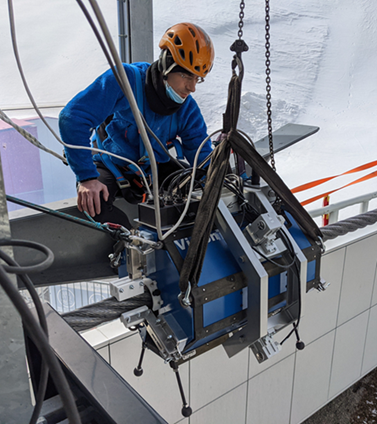 Bridon-Bekaert Ropes Group (BBRG) is proud to announce the acquisition of VisionTek Engineering Srl as an important strategic step in extending the service offering to customers.
BBRG's 'Ropes 360' services provide complete solutions and support to maximize the lifetime of ropes and to monitor the rope integrity when in use. The acquisition announced today will extend the digital capabilities and benefits of the service offering of BBRG.
BBRG and VisionTek Engineering have been partners since 2018. What started as a venture capital investment together with Trentino Sviluppo SpA, gradually turned into a successful technology partnership and now led to the agreement of the integration of VisionTek within BBRG.
John Churchfield, Chief Technology of Bridon-Bekaert Ropes Group commented: 'We are delighted to welcome VisionTek Srl into our ropes group. Building on the rope services we offer today (magnetic inspection, installation, relubrication), VisionTek significantly enhances our ability to provide customers with real-time analysis, digital data, and expert monitoring of critical working ropes. I welcome the new experts on our team. Together, we will continue to develop the most advanced services in the steel and synthetic ropes market.' 
About VisionTek Engineering Srl
VisionTek Engineering Srl was founded in 2014 and is based at the Polo Meccatronica in Rovereto, Trentino, Italy. Its core competencies include engineering software, computer vision and measuring systems design. VisionTek is the leading 3D optical measurement technology that runs performance and surface algorithms to compare real-time performance with critical rope parameter requirements.
About Bridon-Bekaert Ropes Group
Bridon-Bekaert Ropes Group is the world's premier supplier of mission-critical advanced cords and ropes. As a leading innovator, developer and producer of the best performing ropes and advanced cords globally, the Group provides superior value solutions to the oil & gas, wind energy, mining, crane, elevator and other industrial sectors. Two of the most enduring wire and rope pioneers joined forces in 2016 to make this ambition real. Bridon-Bekaert Ropes Group has a global manufacturing footprint, employs approximately 2.300 people worldwide, and is part of the Bekaert Group, world market and technology leader in steel wire transformation and coating technologies.